Overheating
Popping noises
Incredibly loud fans
Incredibly short battery life
A broken "T" key
Casually grinding to a halt when any development task is running alongside the "Podcasts" app…
When this is your outgoing experience with a laptop, is it wise to purchase another one from the same manufacturer? Honestly, it went against every fibre of logic in my body. But when Apple announced their new MacBook Pros — no matter how much I wanted to — I couldn't resist. Secretly, I had been waiting for the next update to the promising Apple Silicon Mac lineup, knowing I wanted even more power and being eager to see a fresh redesign. It's been around three months now of using the new MacBook Pro every day and staring into that big, beautiful notch screen.
So, does it live up to the hype and more importantly, is it worth it?
First things first, let's talk specs. It seems like everyone's got an opinion on what's the best configuration to go for and there's a good reason for that. These machines are not cheap, starting at £1899 for the base model. Even then you're not getting the full fat M1 Pro processor (10 CPU cores instead of 8 & 16 GPU cores instead of 14). On top of that, you have to make do with a 512GB SSD which could be tight after a few years. I need that full-fat M1, at least that's what I made myself believe. And so my config ended up looking like this:
M1 Pro chip (10 core CPU, 16 core GPU)
16GB memory
14inch display
1TB SSD
My justification? Well, there's not much to go on other than to say that I'm a web developer, photographer and occasionally dabble in video-editing and streaming. I also saw this as an investment to learn some new "Apple-only" skills like building apps with Xcode and making music with Logic. Please, go ahead and use that information to formulate your judgements on me and my purchase decisions.
I know that for the same price I could have brought some next-level Windows laptop with 5 different 4K touchscreens built into the keyboard alone, but for the apps that I use and things I want to learn, it was always going to be a Mac that I'd go for. Even despite my earlier reluctance.
Besides, from the moment that I opened the lid, peeled back the film and switched it on for the first time, I just knew the right decision had been made. That 14-inch display does not disappoint — at all. It has a classically weird 3024x1964 resolution, 120Hz variable refresh rate and up to 1600 nits of peak brightness. All of which to say that text is super sharp, system animations are super fluid, HDR content is super HDR-ey and those colours. just. pop. 🎉 The display is so good that I actually don't think I deserve it.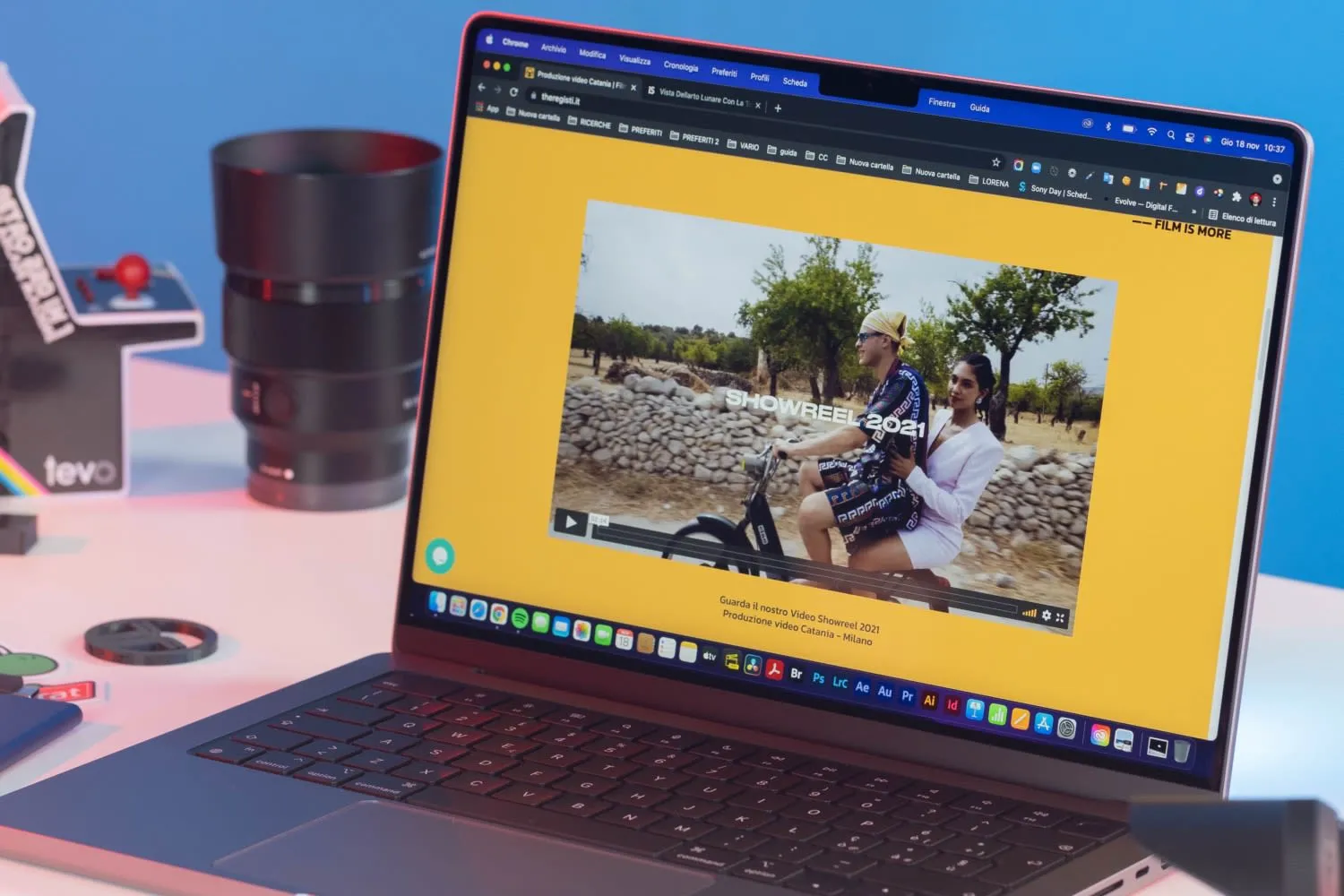 Images won't do it justice, but this display really is sweeeeet.
But the screen is only one part I'm impressed with. Performance with this M1 Pro chip, in this form factor is honestly unbelievable. For comparison I'm coming from a 2017 13-inch MacBook Pro with a dual core Intel Core i5 processor and 8GB RAM. Whether it's opening apps, building a NextJS project or rendering a video, this new MacBook Pro completely obliterates the old one in terms of performance. Literally everything that I've used or done on this new machine is fast and more importantly working.
I say that because given the fact that the M1 Pro chip is based on an ARM architecture, I was concerned about app compatibility. Would NodeJS continue to work? Can I run Spotify without any problems? Will VSCode kill my battery life? Honestly I'm shocked that the only problems I've had is Final Cut Pro crashing 2/3 times when working on a project and one time when the whole thing froze for a few minutes after waking up from sleep. All my Javascript projects build and debug as normal and Spotify runs perfectly fine — especially since it's now optimised for Apple Silicon. VS Code does have a hit on battery life, but nowhere near how much I thought it would originally. i.e. I can code all day without needing to plug in. In fact, I can do pretty much anything all day without needing to plug in. The battery life is just that good. And the fans — on the rare occasion they do come on — stay quiet.
As for everything else, the speakers deliver a seemingly impossible amount of bass and volume whilst retaining good clarity. So much so, if I'm listening to music or watching a video, there's no need for external speakers anymore. The keyboard is also a great improvement from my previous MacBook. Mostly the fact that the keys feel more tactile and the Touch Bar has now been banished forever. Finally, the new FaceTime camera does a better job at handling my dark skin against a bright background, even if the overall image still produces a lot of fuzz.
I know this is starting to sound like a paid promotion by an Apple fanboy, but for the most part I am genuinely blown away by how good the 14-inch MacBook Pro is. The things that annoy me aren't specific to this particular model. For example, I hate how it switches on when I press any key on the keyboard or click the trackpad. It makes cleaning the keyboard more difficult than it should be. But to my knowledge that's been the case with some MacBooks for a while now. Also, why does Xcode take such a long time to install an update and eat up my storage whilst doing so? Again, not exclusive to this Mac and not a big deal in terms of my overall emotional wellbeing, just annoying.
If there is one thing I could complain about, it would have to be that notch. Most of the time I forget that it's there and it doesn't wreak havoc with the menu bar on any of the apps I use. But given how big it is, I just wish more was done with it.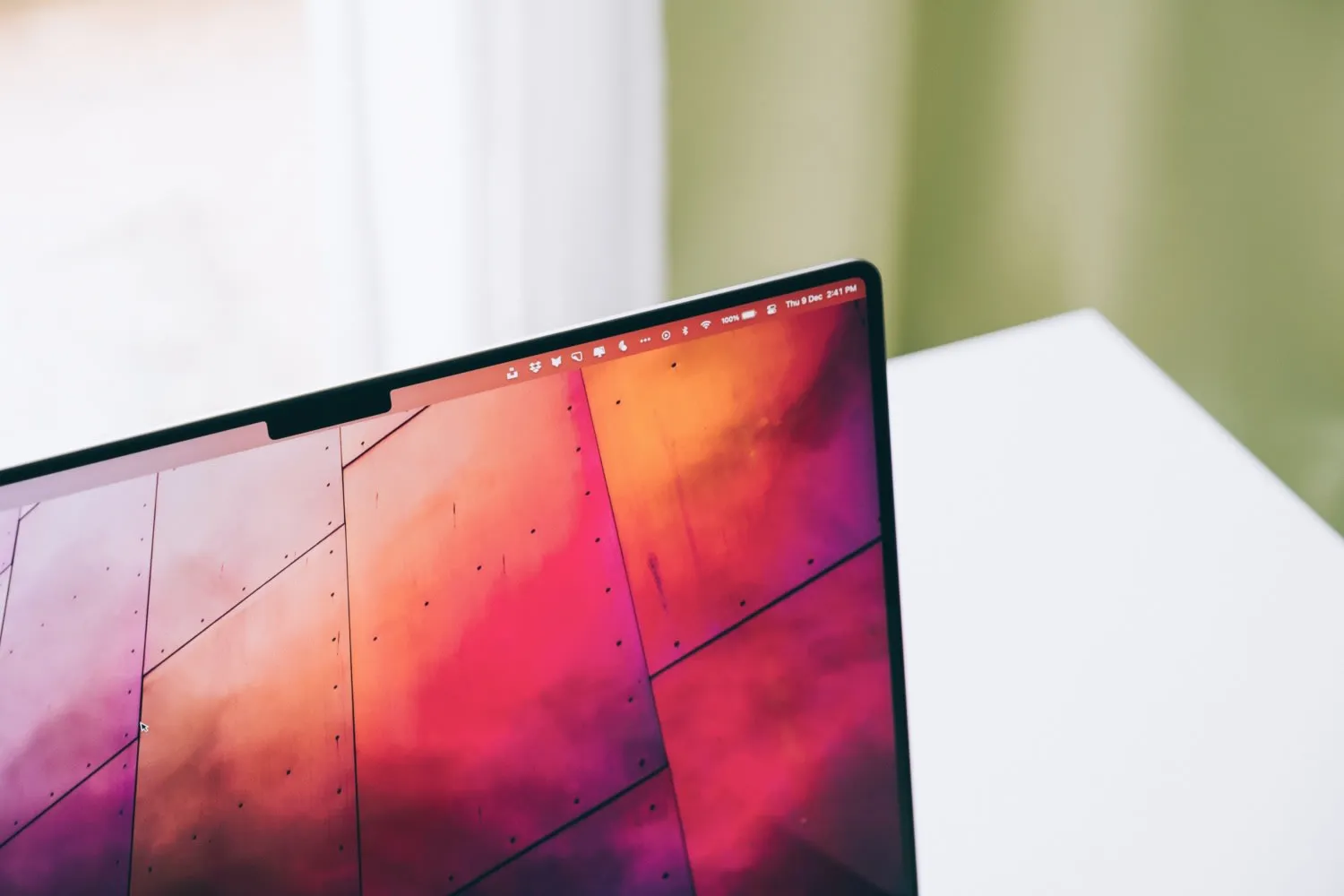 Admittedly, on the 16-inch model the notch appears smaller but is not any more useful.
Having Face ID up there would have made this already super premium machine feel that much more premium. Including a decently de-fuzzed FaceTime camera also would have been a welcome improvement. I know that the ambient light sensor is there and the display has already been pushed to the edge in every other way, but to me it seems like a waste to have such a big notch that doesn't offer anything extra at all. That is literally my only gripe.
Yes. For my needs and my wants, I can confidently say that I have no regrets with my purchase. I'm not sitting around wishing I bought the ASUS Zephyrus G14 or some similarly specced Dell Alienware laptop. This MacBook Pro does everything I need it to do and it does it well. That said, there were some compromises I had to make. AAA gaming is just not a thing yet on MacOS even though the M1 Pro's GPU is pretty powerful — the M1 Max's being even more so. OBS support is also shaky, even though the hardware is more than capable for streaming (the one thing I haven't tested yet).
It's not 100% perfect. Neither will it ever satisfy everyone's needs. And don't get me wrong, I'd take a cheaper price any day. But all things considered, I don't see myself needing to purchase any other configuration, or any additional tech to do what I need/want to do on this laptop. (I've already got a console for the gaming.) That's how I know that, at least for me, Apple's latest 14-inch MacBook Pro is worth it.
At that price, it'd better be.